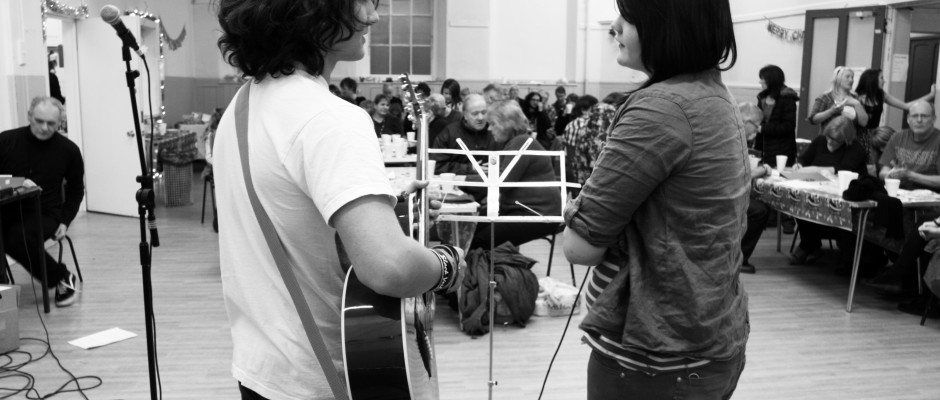 Totally Sound is a youth music project based in Edinburgh that runs on Saturday afternoons providing music workshops for young people aged between 12 – 18 years old. We offer a range of facilities including instrument tuition, recording, rehearsal space and performance opportunities designed to encourage creativity and expression. We aim to support young people of all skill levels from absolute beginners to the most talented young performers and provide low cost access to high quality equipment and professional tuition.
A little bit of history…
Totally Sound was founded in 2003 by Mike Fraser and the Community Learning and Development team at South Bridge Resource Centre in partnership with the Canongate Youth Project. It's aim was to provide access and tuition in music to the young people in the area and give them a space where they could feel free to create and express themselves in a friendly and safe environment.
Totally Sound started in 2003, as a follow on from the 'Go4It' citywide programme of summer holiday activities for young people.  A successful programme of music workshops were held in South Bridge Resource Centre (SBRC) as part of the 'Go4It' programme. At the end of the workshops young people asked 'where can we do more of this?' This was the catalyst for the Community Learning and Development (C.L.D.) City Centre Youth Work team to apply for a grant to continue to run music workshops at SBRC on Saturday afternoons. The application was successful, a partnership was developed with Canongate Youth Project, equipment was purchased and the whole of the SBRC building was made available… and 'Totally Sound' was born, the rest as they say – is history! – Mike Fraser
Initially the project operated like a music youth club and tuition was offered in guitar, drums and singing. Most of the young people attending the project did not have much experience with music before and so they were encouraged to try out different instruments and learn basic skills. Unlike some music courses which were geared towards certificates and assessments, Totally Sound was all about access and opportunity and the project quickly developed a very fun and friendly approach to making music. Central to this was the idea that, no matter how naturally gifted, every young person can benefit from engaging with creativity and expression in musical form. This inclusive approach seemed to challenge the perceived myths that music was preserved for those who were 'naturals' or had some 'special talent'.
As the project continued a more structured approach was taken towards the sessions whilst maintaing the core values of inclusion and accessibility for all. The Totally Sound Christmas Single was designed as a recording project where all the students could take part and sing or play on a song that they would then be able to take home for Christmas (saving them lots of problems when it came to buying presents!). The students were also encouraged to work towards giving a performance at the end of term of what they had been learning and playing throughout the year. These performances came to define exactly what Totally Sound was all about and gave some students their very first experience of being on a stage in front of a crowd of people.
Today the project has blossomed into a hive of musical activity for young people in the centre of Edinburgh and continues to develop and grow. Every year there are new students joining the group and being introduced to music, creativity and expression.
What's it all about?
Totally Sound is all about being creative, having fun and developing skills. The project is designed to provide access to music and a platform for creative expression. Through this we aim to enhance students' interpersonal skills, build confidence and nurture musical talent. By offering equipment and support within a safe and secure environment students can engage in structured fun and creativity.
Where and When?
The project is based at South Bridge Resource Centre, Infirmary Street in Edinburgh and generally runs alongside the school term. The sessions take place on a Saturday between 1pm – 4pm with a break half way through where we provide drinks and snacks for the students. There is easy access by bus to the project via the main bus route on South Bridge.
How much does it cost?
At Totally Sound we believe access to music should not depend on the size of your wallet so we do everything we can to raise funds to keep the project going. We ask the students for a £2 donation to help cover the costs of the drinks and snacks provided. If this is a problem for any of the students then a parent or guardian can get in touch with Liz Highet or Amanda Brown.
Funding…
Since Totally Sound began it has been continually seeking renewed funding in order to keep the project alive. Initially the sessions were funded through South Central Neighbourhood Partnership and Edinburgh City Council however, due to budget cutbacks, the project has had to be proactive about seeking out alternative funding sources.
How to get involved….
If you are aged between 12-18 years of age and think you would like to get involved then get in contact with us by completing the form below or telephone Liz Highet or Amanda Brown on 0131 558 3545.